RECIPE – Tante Kathy's Namoora
(Semolina Cake with Sugar Syrup)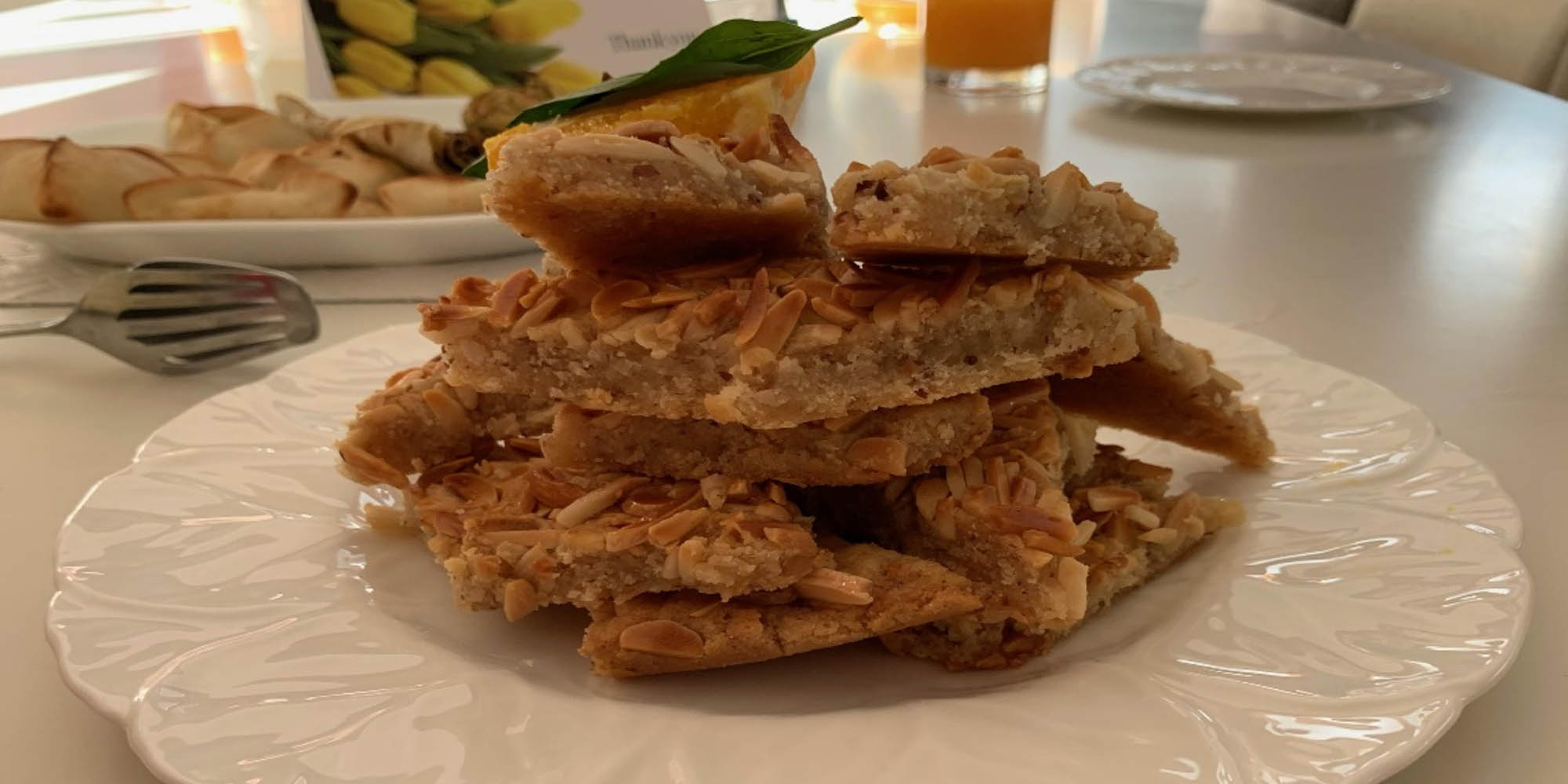 INGREDIENTS 
CAKE 
350 g Fine Semolina

120 g Butter (softened)

1/2 cup Sugar 

1/2 cup Desiccated Coconut (optional)

1/2 teaspoon of Baking Powder  

1 cup of Slivered Almonds (raw)

2 teaspoons of Rose Water

1 ¼ cups of Milk 

Extra butter for greasing tray (small amount)

Extra milk for patting down mixture (small amount)
SYRUP
1 ½ cups sugar

1 ¼ cups Water 

1 teaspoon of Rose Water 

1 teaspoon of Orange Blossom Water   
METHOD 
CAKE 
In a bowl, crumble the softened Butter into Semolina and then add sugar

Add the coconut (optional), baking powder, ground almond, rose water and milk. 

Mix ingredients together 

Knead to a stiff consistency

Grease tray (30cm Diameter) with butter & pat down mixture into the tray

Using fingertips or a brush dipped in milk, baste a small amount of milk over the top

of the mixture (to make the mixture slightly moist and help it brown when cooked). 

Scatter Slivered Almonds (raw) and pat down into mixture

Slice into diamond slices

Bake at 200c conventional oven for about 1/2 hr then at 150c for another 1/2hr

Once baked, it should look dry & browned on top

Pour the cold or lukewarm syrup over the HOT Namoora (Syrup method below).
SYRUP
On a stove top, dissolve sugar in a small pot 

Place on low heat until the Syrup thickens  

Allow the syrup to cool and then add the Rose Water & Orange Blossom Water 

Pour the cold or lukewarm syrup over the HOT Namoora 
"Sahtaine"