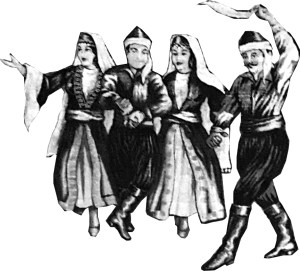 Supporting
Lebanese Culture
The role of the WLCU is not to create culture but to encourage and share the works of Australian and Lebanese people to the wider community. In saying this, the WLCU is reaching out to artists, educators and stakeholders to come together to share teachings and the talents of our community.
Culture can never be definitively categorisers into segments, however by focusing on five broad categories, we can create clusters of support. The WLCU of NSW created five categories of culture. They are culinary, literature, music, stage and visual arts.
Explore the categories and find out more:
The Proclamation of Greater Lebanon
"At the foot of these majestic mountains, which have been the strength of your country and remain the impregnable stronghold of its faith and freedom; on the shore of this sea of many legends that has seen the triremes of Phoenicia, Greece and Rome, that, in subtle spirit, carried through the world your fathers, skilled in commerce and eloquence. Now, by a happy return, this sea brings you the confirmation of a great and ancient friendship and the blessings of French peace. In front of all these witnesses of your wishes, of your struggles and of your victory, it is sharing your joy and pride that I solemnly salute Greater Lebanon in its glory and in its force from Nahr al-Kebir to the gates of Palestine and to the crest of the Anti-Lebanon Mountains.
– General Henri Gouraud's proclamation of Greater Lebanon, September 1st 1920
We want to say
Thank You
In the aftermath of an incomprehensible tragedy that has just befallen the beautiful city of Beirut,  we were touched to see the community support towards those who felt the force of an atomic bomb like quake, who saw the skies turned orange and to the thousands of injured people wailed in the streets for aid and salvation.
We must never forget the "karam" of the Lebanese culture and the want to look after each other.