HSC Distinguished Achievers Awards Night 2023 – Class of 2022
By Alexander Ishac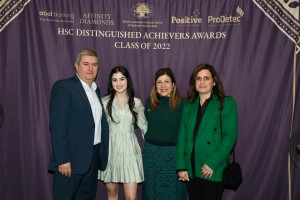 On the 25th of May the World Lebanese Cultural Union of Sydney hosted its annual HSC Distinguished Achievers Night at NSW Parliament House. The event is a celebration of the outstanding accolades that our Lebanese youth have achieved in their final year of high school in the form of both their HSC/IB results as well as their extracurricular undertakings.
The night was a great success, opening in the Strangers Function Room  at NSW Parliament House, overlooking the beautiful Domain with refreshments and an array of delicious canapes overlaying the treat of live jazz and vocals. The formal ceremony was held in the Theatrette hosted by veteran MC's Cedric Barakat (Youth Committee President) and Mia Chaaya (Youth Committee Vice-President) who committed themselves to the role for a smooth-running ceremony. Guest Speaker Professor Stephen Foster, Dean of Engineering UNSW, provided a captivating address to highlight the challenges that our future generations of youth face in protecting the planet. We thank Professor Foster for his ongoing support of the WLCU. Guests were further treated to an address by WLCU President Dr Shane Geha who imparted life wisdoms on students in the form of his signature "five vital ingredients for Success." We also had short presentations from two of our sponsors, Dr Joseph Rizk of Abal banking and Mrs Belinda Barakat of ProDetec who both reflected on their experiences and the importance of education.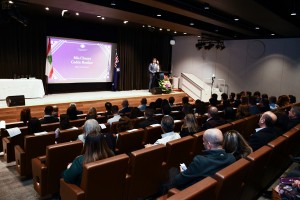 Also in attendance were the Honourable Sophie Cotsis (MP for Canterbury and Minister for Industrial Relations and WH&S), Dr Hugh McDermott (MP for Prospect and Parliamentary Secretary to the Attorney General) and Ms Charisma Kaliyandra (MP for Liverpool). We thank all of our distinguished guests for their support of WLCU Sydney.
I was proud to be the event manager which gave me valuable insights into all the required organising. It was months of effort and included fellow WLCU Youth Committee colleagues, Jacqui Willing coordinating media/marketing, as well as Cedric Barakat (Youth President) and Mia Chaaya (Vice-President) coordinating the programme. The executive board members of the WLCU Dr Shane Geha (President), Paul Shalhoub (Vice-President) and Petra Fakhry (Secretary) also devoted their time and effort.
The event was proud to boast 39 high achieving students, 6 of whom achieved an ATAR above 99, placing them in the top 1% of the state's HSC recipients. The night's highest achieving students, receiving a top ATAR of 99.95, were Elyssa Chaaya and Matthew Nicolas. We commend all award recipients for their achievements and for making our Lebanese-Australian community ever so proud.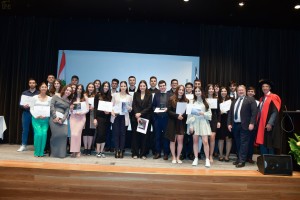 Raffle prizes on the night included a dinner and show at Zahli Restaurant (kindly donated by Zahli restaurant) and the Belvoir Theatre, two sets of Gibran Khalil Gibran prints (kindly donated by Glenn Kalem-Habib), a premium package of Chateau Musar and the Batroun Mountains Katy's Brandy (kindly donated by Harkola) and Manoosh pizzeria vouchers (kindly donated by Manoosh).
The night would not have been possible without the support of our sponsors Abal Banking (Arab Bank Australia Limited), Affinity Diamonds (who produced and gifted the WLCU sterling silver coins given to the award recipients), Positive Investment Enterprise and ProDetec. The WLCU wish to extend our sincere gratitude to our sponsors for the invaluable support of the event. The contribution of our sponsors enables us to recognise exceptional Lebanese students, inspire future generations and empower our humanitarian initiatives in our great homeland.