HSC Distinguished Achievers Awards Night – Class of 2020
The World Lebanese Cultural Union Sydney hosted its first HSC Distinguished Achievers Awards on Friday 16th April 2021. The ceremony was held at the Roundhouse at the University of New South Wales and was another outstanding event.
It was a momentous occasion for the 2020 High School Certificate and International Baccalaureate graduates and was a wonderful opportunity for all youth of Lebanese descent to be acknowledged for the extraordinary results they achieved in their final schooling year.
Given the challenges of 2020, most of the students had been deprived of a meaningful celebration in 2020. They did not have a graduation ceremony, a school formal or an opportunity to celebrate their achievements with their parents, friends and peers.
The evening began with guests arriving to the musical delights of ARIA Collective, a young jazz band whose members are all UNSW students.
The charming Master of Ceremonies, Werrdan Khoury, compered the evening and provided many informative and entertaining references throughout, which kept the guests both enlightened and entertained.
Tables were decorated with red and white flowers, symbolising the common colours of the Australian and Lebanese flags. The WLCU thanked Ted Doueihi and Milad Makary from ATM Flowers for their donation.
Proceedings commenced with an opening address from the UNSW Pro Vice-Chancellor of Education & Student Experience and Professor of International Political Economy, Professor Rorden Wilkinson. As well as discussing the value of education and the role of UNSW, Professor Wilkinson spoke of the achievements of Dame Marie Bashir. He also spoke of his experiences in Lebanon during his five visits. This was followed by the award presentation ceremony to the graduates.
The young ladies and gentlemen receiving the awards, were both excited and nervous, as they gathered to be presented their awards. Many of the recipients were meeting one another for the first time. In a brief time, however, they begun to form strong bonds with their fellow recipients. These bonds will hopefully be maintained throughout their university years and beyond.
On stage presenting the awards in their UNSW regalia were: Professor Rorden Wilkinson; Professor Travis Waller, Head of School of UNSW Civil and Environmental Engineering; and Dr Shane Geha, UNSW Adjunct Professor and WLCU Sydney President.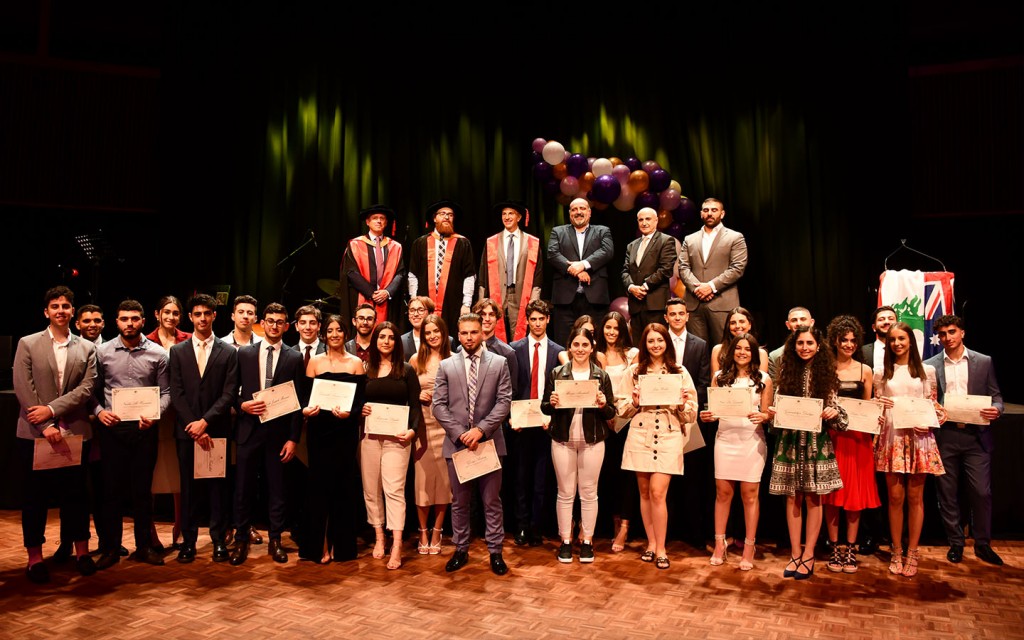 WLCU Sydney congratulating Connor Louis Debs, Mia Chaaya, Patrick Anthony Charbel Webb, Lucia Sarkis, Gwendalyn Dabaja, Luke Joseph Mawad, Thomas Sukkar, Hannah Jamal, Josie Wehbe, Gerard Wehbe, Sharelle Douaihy, George Andary, Anthony Sukkar, Jad Boutros, Sam Ayrouth, Nora-Lee Doueihi, Sebastian Melki, Christopher Fathallah, Antoinette Dagher, Nicolas Al Hazzouri, Monica Abouharb, Nathan Bacha, Lea Barakat, Miray Sakr, Danielle Lauren Safi, Jayden Lloyd, Andrea- Julia  Mikhael, Zaki Mikal Nasr, Grace Chidiac and Anthony Michael Barakat.
The first group of graduates, who obtained an ATAR between 90% to 94.95% received a Certificate of High Commendation and a copy of Khalil Gibran's book, "The Prophet". These were presented by sponsors Vittoria Coffee and Urban Apartments. Two students from this group were also recipients of the President's Award for All-Round Achievement, presented by the Arab Bank. In addition to the Certificate and Khalil Gibran book, these two recipients received a sterling silver coin, minted especially for the occasion, as well as a cash prize.
The third group of graduates were those with ATARs of 95% to 99%. These worthy recipients were handed their Distinguished Academic Achievement Awards by sponsors Eastern Pacific and Positive Investment. Their awards were accompanied by the specially-minted sterling silver-engraved WLCU coin, created by event sponsor Levendi. Finally, the award for Exceptional Academic Achievement was presented to nine students who had attained an ATAR over 99% by the sponsor, Alspec Aluminium.
The delightful jazz songs continued to entertain WLCU guests, as performed by vocalist Sarah Abouhamad Davies and supported by jazz band ARIA Collective. The WLCU Youth Committee worked the room and sold raffle tickets throughout the night for great prizes donated by WLCU sponsors, including a ZenBook Pro; a luxury pen by Levendi Jewellers; and a Manoosh Pizzeria gift card.
WLCU Sydney President, Dr Shane Geha, addressed the audience, giving the award graduates well-deserved praise, providing many inspiring life lessons and his reflections on "The five vital ingredients for Success".
Dr Geha quoted in English, Latin and Arabic, from famous 10th century Arab poet Al Mutanabbi, to famed 19th century Arab poet Ahmad Shoky. He also quoted a number of Nobel Laureates, including Nelson Mandela; George Bernard Shaw; and Marie Curie.
"You should never say 'I've done my Best'. You should always say 'I've done my Best Today' because your best, my dear graduates, will get better. You'll simply jump over a higher bar." said Dr Geha.
Mary Khoury, a 2019 HSC graduate, gave a motivational final speech for the evening. Sharing with the recipients all she had learned from her first year at university and how ironically the rigours of the HSC had prepared her for life. Mary was also a distinguished achiever in her HSC (with an ATAR of 99.8%) and was presented with a WLCU Sydney medallion for her academic achievements and her excellent motivational speech.
The evening finished in typical Lebanese style, with an enthusiastic "dabke" around the Roundhouse. The building, we learnt from Professor Wilkinson, was the first circular structure in New South Wales. This truly fitted the occasion.
The 2020 graduating class were celebrated with an exceptional first HSC Distinguished Achievers Awards event. Each of the recipients should feel enormously proud and be driven to continue this excellence in coming years, their careers and in life. We look forward to continuing this annual recognition of the great accomplishments of the young Lebanese Australians for many years to come.