En Route to Beirut March 2023 Gala
By Paul Shalhoub
Our now infamous WLCU Sydney En Route to Beirut was held on Saturday 18 March 2023 at Doltone House, Sydney. This was the third in our series, where guests board an imaginary taxi and travel to different destinations in Lebanon on way to the final stop in Beirut. Many acclaimed this as the best to date and it was truly a memorable evening with great food, company, interviews, specialty cocktails, speeches and live entertainment. It was a sold-out event with 400 guests. We are proud that the event raised over A$50,000 in funds for Lebanon which has been dispersed over the last couple of months to provide urgent food assistance and critical medicines.
This year we introduced many new surprises. The first was that each guest received an envelope on their place setting with a Lebanese stamp on the front and the waxed seal of King Ahiram of Byblos on the back. Inside was a unique Arabic quote, including its transliteration, translation and meaning. These were prepared by our President, Dr Shane Geha over a period of months to ensure 400 unique quotes.
We were truly honoured to have three distinguished guests that were individually interviewed on stage by our President, Dr Shane Geha. The first was The Honourable Tony Abbott AC, former Australian Prime Minister, Rhodes Scholar, author, volunteer surf patroller and rural fire fighter and distinguished international speaker. The second was The Honourable Bob Carr, who holds the record as the longest continuous serving Premier of NSW and is a former Australian Foreign Minister, who has visited Lebanon. Finally, we had the current Member for Parramatta, Dr Andrew Charlton MP, who is Chair of the Parliamentary Network for Lebanon. Before entering parliament, Dr Charlton  was also a Rhodes Scholar, an entrepreneur, academic, author and economist. It was great to get a deeper understanding of these guests and their views on Lebanon and its prospects for a return to its previous glory. Dr Geha welcomed the guests to join him on a tour of Lebanon at a future occasion.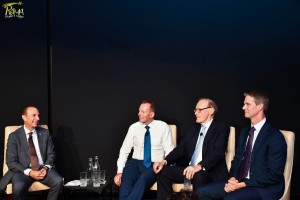 Caption: WLCU Sydney President Dr Shane Geha interviewing The Honourable Tony Abbott AC, The Honourable Bob Carr and current Member for Parramatta, Dr Andrew Charlton MP, who is Chair of the Parliamentary Network for Lebanon.
The four regions visited this year were Tripoli, Jounieh, Koura and Beirut. Besides having a specially selected dish for each region, this year we had Worksmith craft a special cocktail for each of the destinations along with the regular drinks of Jallab, Limonada, Almaza Beer, Massaya Classic Rose, Fakra Blanc De Blanc, Chateau Musar Pere et Fils and Chateau Musar's signature red (Lebanon's most renowned wine) as well as Ksara Arak and a selection of whiskeys from Callington Mill (a Tasmanian distillery with Lebanese owners). Special thanks to Harkola for sponsoring much of the alcohol. To give guests a genuine appreciation of the regions we were visiting we commissioned Mr George Mouffarrige of Glam-Media in the Koura to produce a few minutes of video for each of the four destinations which is available to watch HERE. This included drone footage, covering some of the history of the destination, local attractions and its food. This added so much to the experience and provided work for George and his team and dozens of assistants in Lebanon. Like previous years we had a special song sung at every destination by the wonderful Sarah Davies and Yara Bou Karam, accompanied by keyboardists.
The evening began with canapes and drinks before guests were seated at 7pm under the wonderful direction of our MC's Cedric Barakat (WLCU Sydney Youth President) and Mia Chaaya (WLCU Sydney Youth Vice-President). We began in Tripoli, which featured an amazing selection of mezza, including fried kibbeh, Sambousek and dips. Orange Clementine Mocktail was the cocktail, and the song was  Faiouz's A Hadeer El Bousta.
The second destination was Jounieh where we enjoyed a 5 star chef creation of Hrisse Da'jaj. The cocktail was a Rose Spritz and the song was Sabah's Waadouni w natarouni. The Koura was the next destination and featured Loubieh bi lahm wa kamounet batata (presented as a slow braised lamb shank with roasted tomato, runner beans and herb crushed potatoes). Arak Negroni was the cocktail and Samira Tawfik's Bassak tiji haretna was the song. As usual we finished the night in Beirut with dessert and this was extra special this year. Besides platters of Halawet el Jibn, mixed Ma'amoul and mixed Beklewa we featured an ice cream cart, all generously donated by Sea Sweet! Very Lebanese with incredible ice cream flavours: Vanilla Ashta with Miske, Toot (Mulberry), Lemon and Pistachio. What a way to finish such an amazing evening with truly authentic Lebanese flavours and a wonderful coffee cart with barista coffees supplied courtesy of Vittoria coffee. The cocktail mimicked the moment with Frozen Coffee Espresso Martini. And once again, what better song for Beirut than Pascale Sakr's Ishtaknalik ya Beirut!
At the end of the evening guests were treated to a commemorative brass coin with the Head of a Roman Emperor of Lebanese descent on one side, and the details and WLCU Sydney on the reverse. What a night! It was truly spectacular with so many treats, a wonderful media wall to photograph against (sitting in our "taxi"), lucky door prizes, a raffle and auction. The best of Lebanese food and entertainment were on show and a wonderful evening was enjoyed by all, and over $50,000 was raised. None of this would be possible without our wonderful sponsors, that we are proud to call out for their support: EG, Vittoria Coffee, Urban Property, Multiplex, Positive Investment Enterprise, Climatech, Heworth Fund Management, Scion, Momento Hospitality, Jasara Constructions, Canterbury BMW, Tempe Tyres, Harkola, Doltone House, Callington Mill Distillery, Kopystop Design & Printing, SeaSweet Patisserie, ATM Flowers, Zahli Restaurant, Jounieh Restaurant, Levendi jewellers and Worksmith.