Samkeh Hurra (Baked Fish with Tahini Sauce)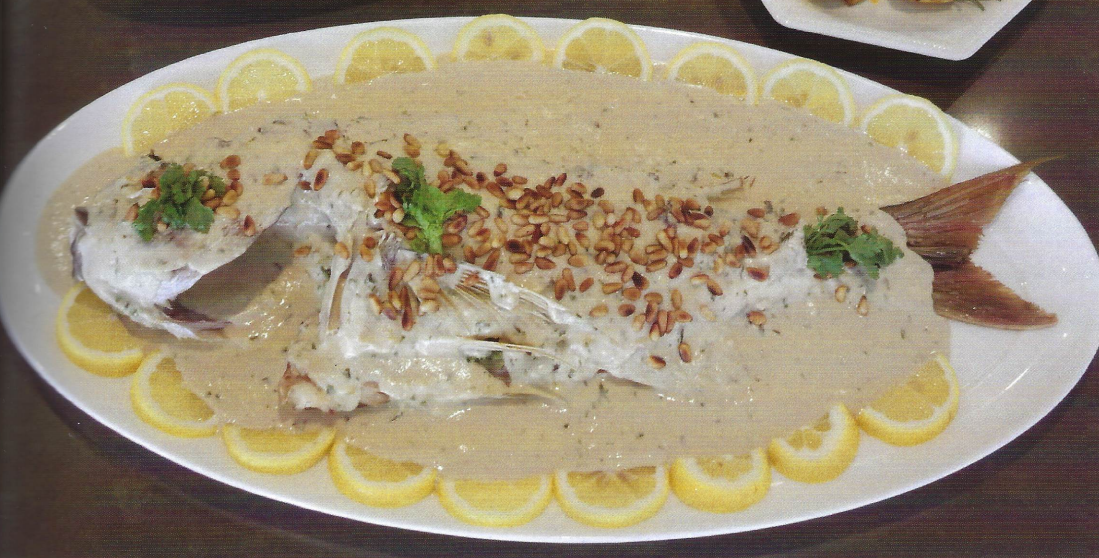 Inspired by one of the delicious dishes served at Rome Comes To Lebanon 2022, Samkeh Hurra is a classic Lebanese savoury dish. Once you have tried this dish, you won't want to eat fish any other way! This edition's recipe is derived from the wonderful "Sahtain!" Recipe Book (Australian Lebanese Association of NSW) and an all-time family favourite.
Ingredients
4 Kg of Snapper fish (could be barramundi or another fish of your choice)
6 cloves of garlic
1/2 bunch of coriander chopped
100g of pine nuts
Handful of chopped parsley
1 chopped chilli
1 cup of tahini paste
2 lemons juiced
Lemon slices for decoration
Method
Preheat oven to 200C.
Scale, wash and pat-dry fish. Season with salt and set aside in the fridge.
Using a mortar and pestle, crush the garlic cloves adding a pinch of salt. Add the chopped coriander as well as 50g of pine nuts, and continue grinding until the ingredients become paste like.
Add the chopped chilli to the mixture. Set aside one heaped tablespoon of the mixture and then transfer the remainder of the mixture into a large mixing bowl.
In the large mixing bowl, add the tahini paster, lemon juice, water and mix well. Add enough water to reach the desired consistency. Add salt to taste, and then set sauce aside.
Lay the fish on a tray lined with baking paper. Very carefully lift the slit and add the reserved tablespoon of stuffing mixture.
Bake for approximately 40 minutes or until the fish has cooked.
While fish is cooking, transfer sauce mixture to a saucepan and heat until it starts to simmer.
Place remaining pine nuts in a small saucepan and toast until golden brown.
Once the fish is cooked, transfer to a large elongated serving dish.
Pour the hot sauce over the fish and decorate with pine nuts.
Lemon slices can be placed as decoration around the fish (optional).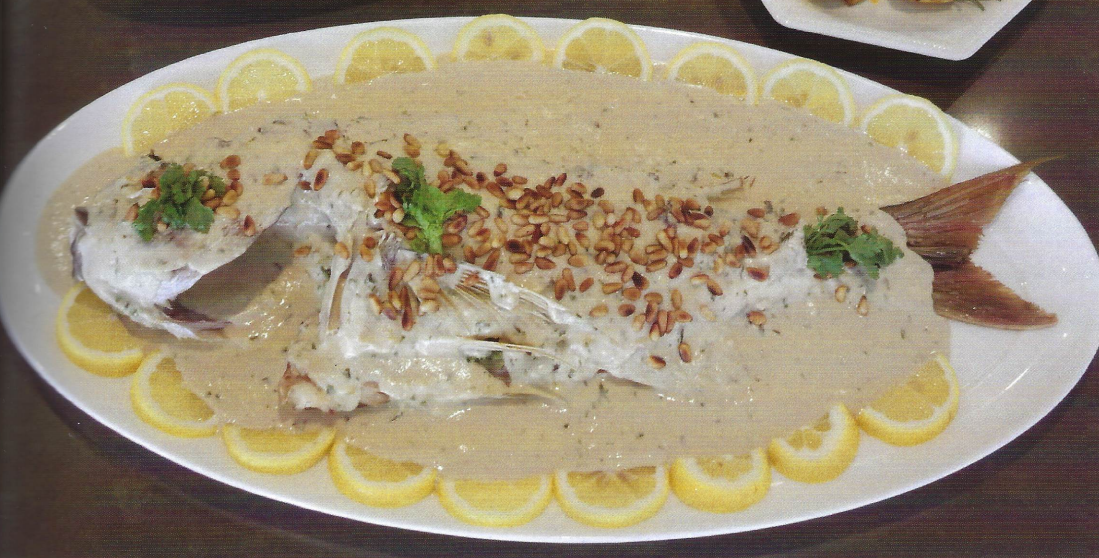 Sahtain!