Petra's Mehshee Silk
Stuffed Silverbeet Rolls [vegetarian]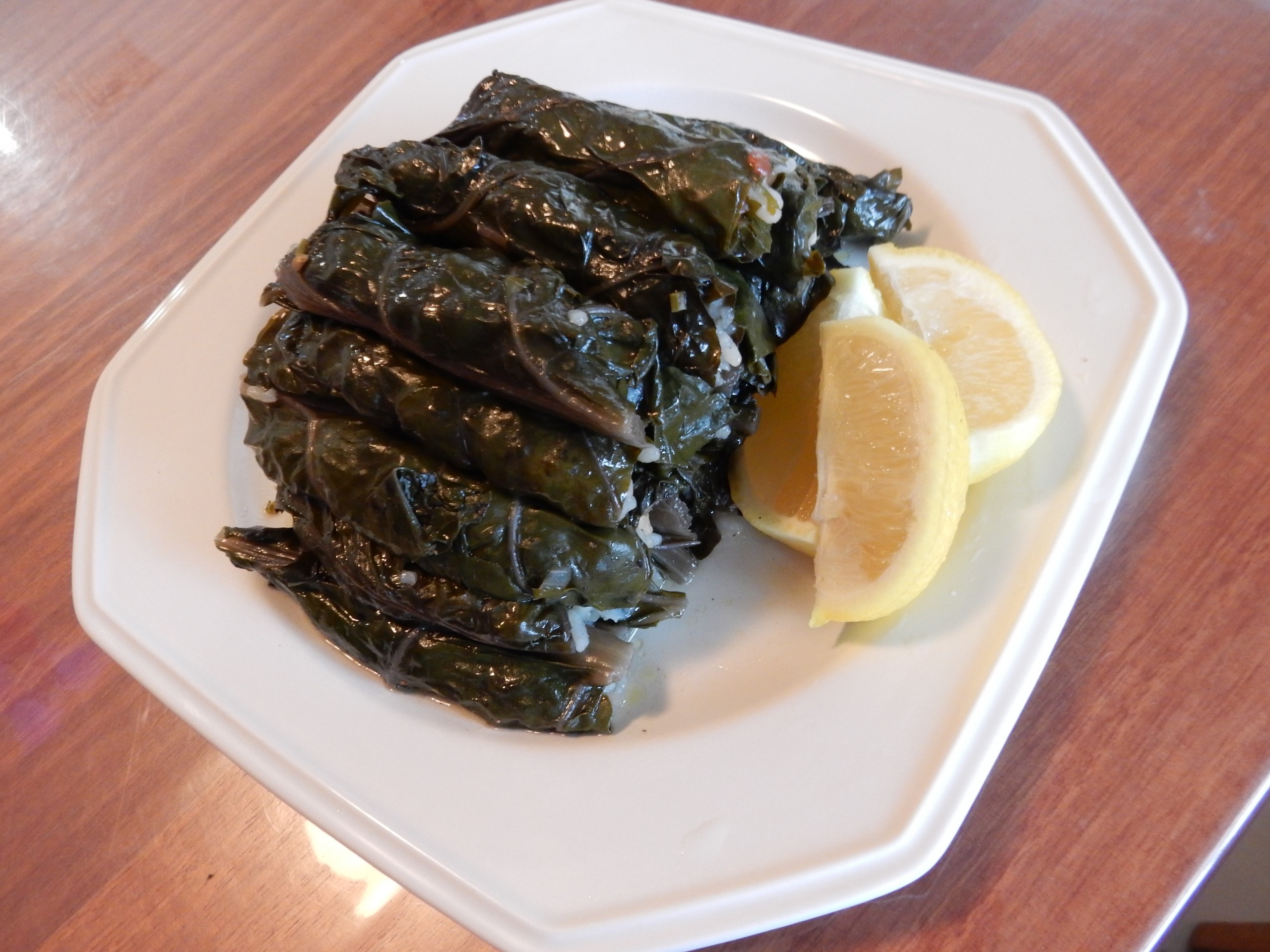 –
By Petra Fakhry – WLCU Secretary
This edition's recipe is the delicious, flavoursome and very popular savoury vegetarian dish comprising of silverbeet rolls filled with a rice, tomato and chickpea mixture. This wonderful recipe together with the associated photographs have been most kindly provided by our esteemed WLCU Sydney Secretary, Mrs Petronella Fakhry.
Ingredients
2 bunches silverbeet (known as chard or Swiss chard in some parts of the world)
4 medium size tomatoes finely chopped (similar in size to how they are prepared for tabouli)
1 cup of rice – washed and drained
1 large brown onion – finely chopped or shallots (called scallions in the USA)
1 cup chopped parsley
1 tin of chickpeas or 1 cup chickpeas soaked overnight
Olive oil (1/2 cup)
Salt – about 1 teaspoon (more or less to taste)
Black pepper -1/2 teaspoon (more or less to taste)
Chilli – optional and to taste
Lemons (to serve in wedges once cooked)
Method
Remove the white stalks from the silverbeet and wash the leaves well. Cut each leaf into approximately 10 cm portions. In a saucepan, blanch the leaves in hot water for 1 – 2 minutes until they go limp. Remove the leaves from the hot water and place in a colander to drain.
In a bowl, place the rice adding salt and pepper, and mix well. Then, to the mixture add the onion, parsley, chickpeas and tomatoes and mix together. Drizzle a little olive oil (1/2 cup) and a pinch of chilli. Mix well.
Prepare the saucepan by lining the bottom with the excess white stalks.
On a board commence stuffing and rolling the silverbeet leaves. Place about a tablespoon of stuffing on each leaf (placing it on the underside of the leaf that has the thicker stem so when they are rolled up the stem is hidden inside the roll) and spread it evenly across the leaf along one edge of the leaf. Then roll it up tightly.Repeat this process until all the leaves have been stuffed with mixture.
Place the rolls neatly next to one another in the saucepan all going the same way. Pack them tightly so that the leaves do not open up during the cooking process.
Over the top layer, sprinkle a little salt and drizzle some olive oil. Add enough tap water (one cup at a time) slowly, until the water is level with the top of the silver beet layer. Bring to the boil and reduce the heat.
Simmer for approximately 30 minutes or until cooked. Do a taste test by taking one roll out of the saucepan and allowing it to cool for a couple of minutes before tasting.
Allow to cool for at least 1 hour before serving. Best eaten at room temperature with lemon squeezed on top.
Sahtain!