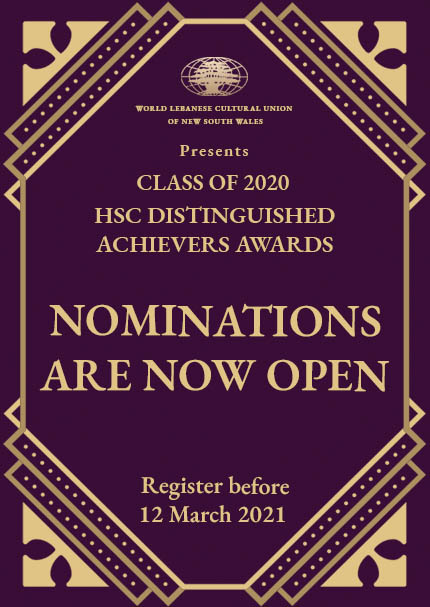 Class of 2020
HSC Distinguished
Achievers Awards
The World Lebanese Cultural Union of Sydney will be presenting their HSC Distinguished Achievers Awards Night this year. This event has been staged for over two decades and aims at honouring those youth who have Lebanese ancestry, on either side of their family, who have achieved great results in the High School Certificate of 2020.
The WLCU Sydney would like to extend an invitation to all students, who have received an ATAR of 95% or above, to attend our event in recognition of their hard work and excellence. All-rounder students who received an ATAR of 90% and above are also invited. All high achievers will be formally awarded a certificate of merit. Also, top-performing students will receive monetary awards.
This event takes on special significance as it serves to recognise the importance of empowering youth in our community. It is a tradition we are keen to work with you to maintain into the future.
If you wish to nominate a student, please do so below by Friday, 12 March 2021.
Nomination Form
Nominate Your Student
Please fill in the nomination form before Friday, 12 March 2021.